Frame Grabber LC-37 ExpressCard
Customer Specific ExpressCard for large volume customers
HaSoTec ExpressCard Frame Grabber LC-37
Real-Time Frame Grabber for large volume customers
Please contact us to make your special version of FG-37. 10-Bit analog video is now available on 20% space of an ExpressCard. HaSoTec can place additional hardware inside of this ExpressCard.
ExpressCard /34 versions
Perhaps you want to convert an existing system to a mobile solution. HaSoTec has experience in miniaturized hardware design since 1990.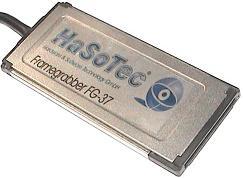 34mm card example.